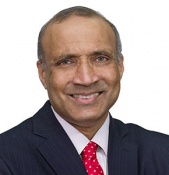 academic title and school
Academic title
Associate Professor | Program Chair
s &D06s& parahoo ~3#$A~ hbmsu &D06s& ac &D06s& ae
Service management in Business and online learning, service innovation.
PhD in Services Management (University of Mauritius / FACIREM, La Réunion)
Master's in Business Administration (Mauritius)
Various professional development courses in Innovation Management end IPR
Grad Cert in Business (Curtin)
Registered professional Engineer
Bachelor of Technology (IIT Delhi)
Sanjai has taught Services Management and Innovation courses at Bachelor/ Masters level for the past 20 years, building on his intensive experience in managing contract research projects in over 12 African countries. Sanjai also had the privilege to be a coordinator of the ADEA working group of DEOL, from 2007-09, being involved in planning Educational projects linked to the African Union second decade of Education for Africa Action Plan.
Parahoo, S. K., & Al-Nakeeb, A. A. (2019). Investigating antecedents of social innovation in public sector using a service ecosystem lens. International Review on Public and Nonprofit Marketing, 1-19.
Singh, A. S., Shree, S., & Parahoo, S. K. (2018). Does Instructor's Use of Self-Authored Cases vs. Other Cases in Teaching Lead to More Effective Learning? Instructor's Use of Self-Authored Cases vs. Other Cases. International Journal of Marketing and Sales Education (IJMSE), 1(1), 49-63.
Savara, V., & Parahoo, S. (2018). Unraveling determinants of quality in blended learning: are there gender-based differences? International Journal of Quality & Reliability Management, 35(9), 2035-2051.
Mumtaz, S, & Parahoo S K (2018) Employee Innovation Performance: Examining the Role of Self-efficacy and Growth Need Strength, International Journal of Productivity and Performance Management, 
Ayyagari, M., & Parahoo, S. K. (2018). Personal touch or convenient tech? An investigation of customer channel preferences in retail banking. International Journal of Financial Services Management, 9(2), 103-118.
Hijazi, H. H., Harvey, H. L., Alyahya, M. S., Alshraideh, H. A., Al Abdi, R. M., & Parahoo, S. K. (2018). The Impact of Applying Quality Management Practices on Patient Centeredness in Jordanian Public Hospitals: Results of Predictive Modeling. INQUIRY: The Journal of Health Care Organization, Provision, and Financing, 55, 0046958018754739
Ayyagari, M., Parahoo, S., & Harvey, H. L. (2018). Marketing of Public Services. Economic Analysis, 51(1-2), 60-78.
Parahoo, S. K., Mumtaz, S., & Salem, S. (2017). Modelling organisational innovation in UAE... International Journal of Knowledge Management in Tourism and Hospitality, 1(1), 110-126.
Harvey, H. L, Parahoo, S. K., & Santally, M.I (2016). Should we consider gender differences when assessing student satisfaction in the online learning environment for millennials? Higher Education Quarterly
Hafeez, K, Foroudi, P., Keith, D., Nguyen, B. & Parahoo, S. K. (2016). The role of place branding and image in the development of sectoral clusters: the case of Dubai. Journal of Brand Management.
Parahoo, S. K., Santally, M. I., Rajabalee, Y., & Harvey, H. L. (2016). Designing a predictive model of student satisfaction in online learning. Journal of Marketing for Higher Education, 1-19.
Parahoo, S. K., Al-Nakeeb, A., & Onagun, I. (2015). We are who we are: Incorporation of individual culture in customer satisfaction models. Journal of Financial Services Marketing, 20(3), 220-230.
Parahoo, S.K., Harvey, H.L., and Radi, G. (2014). Satisfaction of tourists with public transport: An empirical investigation in Dubai. Journal of Travel and Tourism Marketing, 31:8, 1004-1017
Parahoo, S.K., Harvey, H.L., and Radi, G. (2014). Changing Consumer Behavior Paradigms: Influence of Age and Reputation on Passengers. Corporate Reputation Review, 17(1): 64-77.
Parahoo, S.K. (2014). "Consumer behavior in Gulf countries: Are traditional satisfaction models valid?" In Edward, M. and Zakariya, K.A. (Ed), Marketing dynamics in emerging markets
Parahoo, S.K., Harvey, H.L., and Tamim, R. (2013).  Factors influencing student satisfaction in universities in the Gulf region..., Journal of Marketing for Higher Education, 23(2): 135-54
Parahoo S K (2013). Role of involvement and commitment in sustaining firm-customer relationships: an empirical investigation, International Journal of Procurement Management, 6 (4), 407-423
Parahoo S K, and Tamim, R M (2012). Determinants of Student Satisfaction in HE: an Empirical Study in Dubai, International Journal of Services, Economics and Management, Vol. 4, No. 4, pp 282-297
Parahoo S K (2012). Credit where it is due: Drivers of loyalty to credit cards, International Journal of Bank Marketing. Volume 30, Issue 1, October, 4-20
 Parahoo S K (2012). Motivating shoppers to come back: Modeling Consumer Behavior in Retailer loyalty programs. Current Issues of Business and Law, pp 106-18; http://dx.doi.org/10.520/ibl.2012.10.