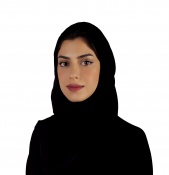 academic title and school
Academic title
Assistant Professor
S &D06s& AlHarmoodi ~3#$A~ hbmsu &D06s& ac &D06s& ae
Innovation Management
Project Management
Stakeholder Management
Sustainable Development
PhD in Project Management from BUiD, UAE and The University of Manchester, UK
Masters in Urban Planning from the American University of Sharjah, UAE.
BSc in Natural and Quantitative Sciences from Zayed University, UAE.
Dr. Shaima AlHarmoodi is an Assistant Professor at Hamdan Bin Mohammed Smart University.  Prior to her appointment, Dr. Shaima competed her Ph.D. degree at the British University in Dubai partnered with The University of Manchester investigating the effect of stakeholder integration on innovation effectiveness in megaprojects. Her interest in Megaprojects stemmed from her specialization in her Master's degree as an urban planner. She believes that planning at a large-scale necessitates proper management and innovation to achieve a competitive advantage.
Dr. Shaima's research experience in the field of Innovation and Project Management allowed her to lecture in different areas such as innovation management, project management, stakeholder management and urban planning.
AlHarmoodi, S. (2014). Smart, sustainable, and healthy cities. Stakeholder integration and innovation effectiveness: a review of the literature: The 1st International Conference of the CIB-MENA Research Network. Abu Dhabi University.  Abu Dhabi. 14-16 December.
AlHarmoodi, S. (2015). Stakeholder integration in open innovation construction projects: BUiD 1st Doctoral Research Conference. The British University in Dubai. Dubai. 16 May.
AlHarmoodi, S & Dulaimi, M. (2016).  Advancing products and services. Stakeholder integration and innovation effectiveness in sustainable construction projects: CIB World Building Congress. Tampere University of Technology. Tampere. TUT