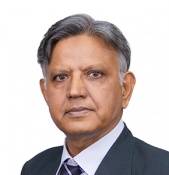 academic title and school
Academic title
Associate Professor | Program Chair
S &D06s& Siddiqui ~3#$A~ hbmsu &D06s& ac &D06s& ae
Financial Management
Islamic Economics
Ph.D. (Economics), Temple University U.S.A (1989)
M.S. (Applied Economics), Applied Economics Research Centre, University of Karachi (1980).
M.A. (Economics), University of Karachi (1979).
B.A. (Economics & Political Science), University of Karachi (1976)
PhD (Economics) degree in 1989 from Temple University, USA.
MA (Economics) in 1979 from University of Karachi
MS (Applied Economics) in 1980 from University of Karachi
Undergraduate Studies (Economics and Political Science) in 1977
Taught courses in economics and Islamic Finance at the University of Brunei Darussalam, University of Karachi and Temple University.
Published journal articles and papers in the areas of international trade, labour and development economics
Worked as an Economics Consultant for various development projects undertaken by public sector departments of governments of Brunei, Sri Lanka and Pakistan a number of them sponsored by international agencies
 
Siddiqui, S. and Roebke, J. (2010) Regional Integration in Theory and Practice: A Case Study of ASEAN.  
"Pillarisetti, R., lawrey, R., Siddiqui, S. and Teo, J. (2008) Small Economies and Global Economics. "
Siddiqui, S. and Afzal, M. (2018) A Panel Investigation of Triple Helix (Th), Quadruple Helix (Qh) Relationship In Asean-5 Economies (2018) Journal of Innovation Economics & Management, France.
Siddiqui, S. (2017) Agricultural and Urban Land Rent, Sharecropping and Land Reform: A Suggested Islamic Economic Agenda. Journal of Islamic Banking and Management, Volume 7, Issue 1, pp. 52-67.