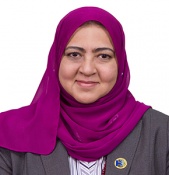 academic title and school
Academic title
Director, General Education Department
M &D06s& Moussa ~3#$A~ hbmsu &D06s& ac &D06s& ae
Environmental Epidemiology
Environmental and Occupational Health
Health Promotion
Statistical Data Management
Ph.D. in Public Health (Environmental Health), Alexandria University, 2010
Master in Public Health (Environmental Health), Alexandria University, 2005
M.B.Ch.B., Faculty of Medicine, Alexandria University, 1998
Dr. Mayada Moussa is the Director of General Education as well as an Assistant Professor of Public Health affiliated to the School of Health and Environmental Studies at HBMSU. She has MPH and PhD from Alexandria University in Public Health, majoring Environmental Health. 
She has been in the academic field of public health for over 10 years, teaching, supervising Master and PhD theses, developing programs and designing courses, and conducting research. She has worked on a variety of projects, including the investigation of the impacts of environmental risk factors on health and the environment, and the establishment of postgraduate programs and academic quality assurance units at Universities in Egypt, Oman and Sudan. 
Dr. Mayada is a reviewer and editor for several Journals, among them the Public Health Journal, the Journal of the Egyptian Public Health Association, and the Journal of Family and Community Medicine; and she has served on the scientific and technical committees of several national and international conferences. 
Concerning General Education, Dr. Mayada is responsible for the management of GE courses, monitoring their progress and working with Associate Faculty to enhance the courses' effectiveness in preparing learners for their further studies at HBMSU and for seizing their roles as smart and conscientious professionals later-on.    
 
Al Mansoori, A., Moussa, M. Assessment of households' solid waste management among Emirati households in Abu Dhabi. Conference Proceedings, Innovation Arabia 10, 2017
Al Tikarly, N., Moussa, M. The Amount of Waste Produced By Family Households Living In Dubai. Conference Proceedings, Innovation Arabia 10, 2017
Al Murr, R., Moussa, M. How Eco-Friendly are Abu Dhabi Residents? Conference Proceedings, Innovation Arabia 10, 2017
Al-Kitbi, M.K., Moussa, M. Recycling Attitude, Knowledge, and Behavior of Sharjah Households. Conference Proceedings, Innovation Arabia 10, 2017
Moussa, M., Hussein, R., El-Naggar, H. Environmental risk factors and the associated morbidity in a periurban area, Alexandria, Egypt. Journal of the Egyptian Public Health Association. 2016; 91(1): 44-51
Elnour A.M., Moussa M., El-Borgy M.D., Fadelella N.E., Mahmoud A.H. Impacts of an intervention program on the Attitude of Kosti, Rabak, and Eduiem Hospitals' Nursing and Sanitation Staff with regard to Healthcare Waste Management. International Journal of Basic & Applied Sciences. 2015; 15(5): 11-24
Elsergany M., Moussa M., Ahsan A., Khalfan A., Eissa, A. Exploratory Study of Bacterial Contamination of Different Surfaces in Four Shopping Malls in Sharjah, UAE. J Environ Occup Sci. 2015; 4(2): 101-105
Elnour A.M., Moussa M.M., El-Borgy M.D., Fadelella N.E., Mahmoud A.H. Impacts of health education on knowledge and practice of hospital staff with regard to Healthcare waste management at White Nile State main hospitals, Sudan. International Journal of Health Sciences. 2015; 9(3):315-331
Awofeso, N., Hamidi, S., Moussa, M., El Sergani, M. Preventing Insurance Fraud in Dubai–A Risk Management Approach. Conference Proceedings, Innovation Arabia 8, 2015
Awofeso N, El Sergani M, Moussa M.  Artificial water fluoridation: ethical and disease prevention implications. 5th Health and Environment Conference in the Middle East, Transformation for Better Healthcare and Environment, 2014
Moussa M. Review on health effects related to mobile phones. Part II: results and conclusions. Journal of the Egyptian Public Health Association. 2011; 86 (5&6): 79-89
Moussa M. Review on health effects related to mobile phones. Part I: introduction and methodology. Journal of the Egyptian Public Health Association. 2011; 85 (5&6): 337-345