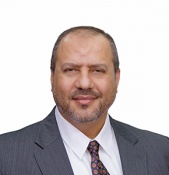 academic title and school
Academic title
Assistant Professor
m &D06s& elbaradie ~3#$A~ hbmsu &D06s& ac &D06s& ae
Management Accounting
Islamic Accounting
Disclosure and Corporate Governance
Ph.D. University of Durham. UK 2008
MBA Wayne State University. USA 1997
B.Sc. Alexandria University 1992
Dr. Mohamed El Baradie is an Assistant Professor and the Head of the Accounting & Finance Department at Hamdan Bin Mohammed Smart University in the School of Business and Quality Management.
Before joining HBMSU Dr. El Baradie worked as an Assistant Professor at Al Hosn University, Abu Dhabi and The American University in The Emirates, Dubai. He also taught Accounting courses at The University of Durham.
He worked as a Financial Controller with American Airlines, and an Accounting Controller with P. Tech Corporation both in the USA. Also, he is a certified Business Trainer by the US AID.
Dr. El Baradie's teaching experience includes Financial Accounting, Cost/Managerial Accounting, Auditing and Finance.
Dr. El Baradie received his PhD in Accounting from The University of Durham, United kingdom, an MBA from Wayne State University, Michigan, USA, and the bachelor degree from Alexandria University, Egypt.
His research interests include Management Accounting techniques and the Institutionalization of Costing methods, disclosure and corporate governance, and Islamic Accounting & Finance.
Behind The Veil: The Challenges and Impediments Encountered by Women Entrepreneurs in the United Arab Emirates. Rizwan, M.; El Baradie, M. 2018, International Journal of Entrepreneurial Venturing.
Should Auditors be Whistle Blowers? Baeshen, M.; El Baradie, M. 2017. Innovation Arabia 10, Dubai. UAE.
"The Internal & External Factors Influencing Accounting Practices in Egypt; A NEO-OIE Approach" by M. El Baradie, A.A.Ragab, M.A.Ragheb. Irish Academy of Management, 10th annual conference.
"Towards A Successful Implementation Of The Target Costing Technique In The Egyptian Industry Environment by M. El Baradie, A.A.Ragab, M.A.Ragheb, A. SakrJournal of Accounting, Management & Insurance Faculty of Commerce, Cairo University.