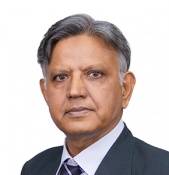 academic title and school
Academic title
Associate Professor | Program Chair
S &D06s& Siddiqui ~3#$A~ hbmsu &D06s& ac &D06s& ae
Financial Management
Islamic Economics
Ph.D. (Economics), Temple University U.S.A (1989)
M.S. (Applied Economics), Applied Economics Research Centre, University of Karachi (1980).
M.A. (Economics), University of Karachi (1979).
B.A. (Economics & Political Science), University of Karachi (1976)
PhD (Economics) degree in 1989 from Temple University, USA.
MA (Economics) in 1979 from University of Karachi
MS (Applied Economics) in 1980 from University of Karachi
Undergraduate Studies (Economics and Political Science) in 1977
Taught courses in economics and Islamic Finance at the University of Brunei Darussalam, University of Karachi and Temple University.
Published journal articles and papers in the areas of international trade, labour and development economics
Worked as an Economics Consultant for various development projects undertaken by public sector departments of governments of Brunei, Sri Lanka and Pakistan a number of them sponsored by international agencies
 
Regional Integration in Theory and Practice: A Case Study of ASEAN,  (2010) with Julia Roebke, LAMBERT Publishers, Germany.
Small Economies and Global Economics   (2008) with J. Ram Pillarisetti, Joyce S. Y. Teo, Roger Lawry (editors), Nova Publications, USA.
"An Empirical Investigation on Trade Openness and Economic Growth in Bangladesh Economy", With Umme Humayara Manni & Munshi Naser Ibne Afzal, Asian Social Science; Vol. 8, No. 11, 2012, pp. 154-59 (ISSN 1911-2017, E-ISSN 1911-2025); published by Canadian Center of Science and Education
"Development and Growth through Economic Diversification: Are there Solutions for Continued Challenges Faced by Brunei Darussalam?", with  Alaa Aldin Abdul Rahim Al Athmay, Journal of Economics and Behavioral Studies, Vol. 4, No. 7, pp. 397-413, July 2012 (ISSN: 2220-6140).
"A Case for Social Innovation in Promoting Profit & Loss Sharing Islamic Banking', International Journal of Excellence in Islamic Banking & Finance, Volume 2, No. 1, 2012, pp. 13 36.
Comments on Asad Zaman's Paper "Crisis in Islamic Economics: Diagnosis and Prescriptions", Journal of King Abdulaziz University: Islamic Economics, Jeddah, Vol. 25. No.1. (2012), pp. 193-204.