Image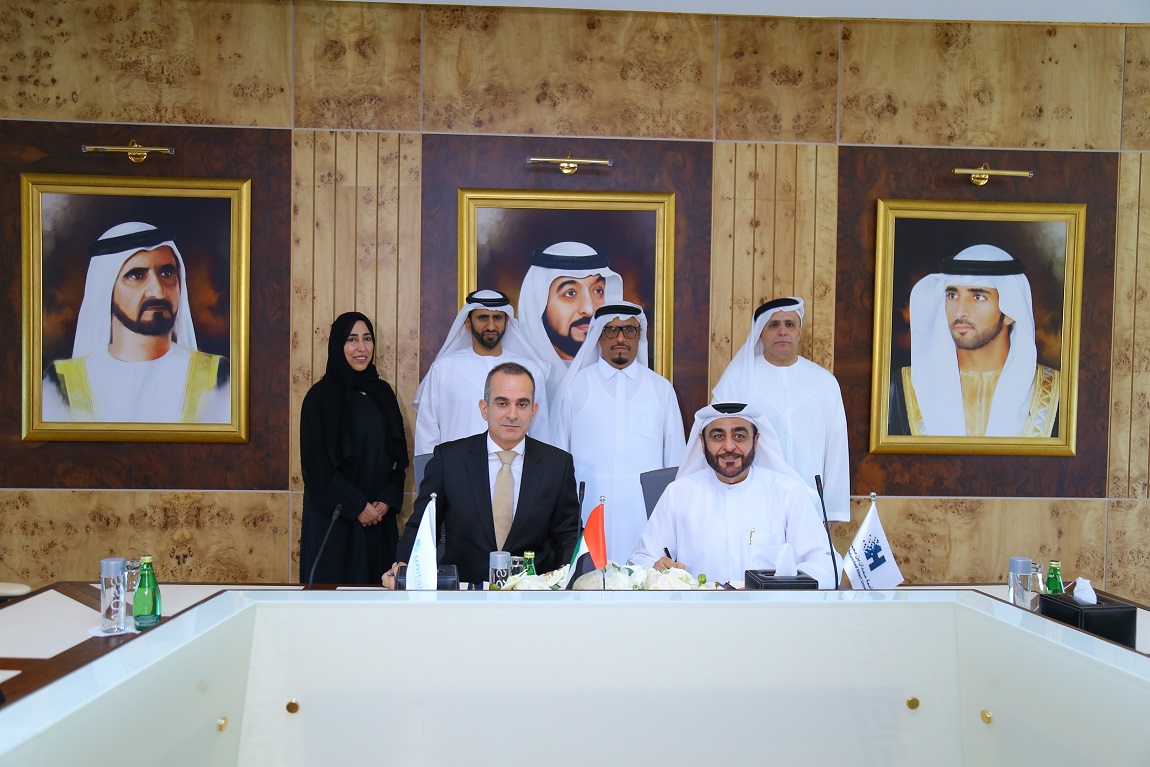 Partnership to prepare Emirati human resources for global roles

'The International Leaders program' first of its kind initiative to develop leaders capable of representing the UAE in global platforms

Dhahi Khalfan: "Partnership is a great step forward in building diplomatic & political skills of UAE nationals in line with the Soft Power Strategy"
Hamdan Bin Mohammed Smart University (HBMSU) announced the signing of a Memorandum of Understanding (MoU) with the United Nations Institute for Training and Research (UNITAR) in the presence His Excellency Lieutenant General Dhahi Khalfan Tamim, Deputy Chairman of Police and General Security in Dubai and Chairman of HBMSU's Board of Governors (BOG). The partnership aims to facilitate exchange of professional expertise and the implementation of joint training programs in international diplomacy and global policies to prepare national human resources to represent the UAE on the global platforms and support the UAE's Soft Power Strategy to strengthen UAE's position in economic, humanitarian and cultural fields. Under the terms of the agreement, both parties will jointly launch the 'International Leaders' program, which is strategically important as the first of its kind program to develop international leaders with futuristic visions to highlight the image of the UAE as a model for openness, which welcomes world's diverse cultures and civilizations. The agreement was signed by Dr. Mansoor Al Awar, Chancellor of HBMSU and Rabih El Haddad, Director of UNITAR's Multilateral Diplomacy Division, emphasizing the importance of joint efforts to develop sustainable work programs and policies with a regional and global focus to effectively serve ambitious national aspirations.
His Excellency Lieutenant General Dhahi Khalfan Tamim said: "We are honoured to enter into a strategic partnership with the United Nations Institute for Training and Research (UNITAR) to launch the International Leaders Program, which is designed to equip future leaders with insights and visions in the global, social, diplomatic and economic affairs in the modern world, in line with the UAE's Soft Power Strategy and to integrate them into the efforts to promote the global reputation of the UAE as a modern, tolerant and beloved country for all. The qualitative program reflects our beliefs in HBMSU in the importance of investing in developing good leaders in diplomacy, politics, and other similar internationally relevant fields and preparing them to play major roles in diplomacy. This is in line with the UAE's Soft Power Strategy and the directives of His Highness Sheikh Mohammed bin Rashid Al Maktoum, Vice President and Prime Minister of the UAE and Ruler of Dubai, to build a soft power system in order to establish a global reputation that serves the interests of our people in long term."
Dr. Mansoor Al Awar, Chancellor of Hamdan Bin Mohammed Smart University said: "The partnership with UNITAR is a significant achievement and highlights HBMSU's leadership as a driving force that redefines the future of learning and education under the directives of His Highness Sheikh Hamdan bin Mohammed bin Rashid Al Maktoum, Crown Prince of Dubai, with an aim to improve the quality of scientific research, entrepreneurship and innovation. The initiative builds on a strong focus on enabling young generations to enter the world of diplomacy to play leading roles in fruitful partnerships with leading national, regional and global entities in research and development, in line with the UAE's political and diplomatic directions. We look forward with confidence to the new program, under the directives and in the presence of His Excellency Lieutenant General Dhahi Khalfan Tamim, Deputy Chairman of Police and General Security in Dubai and Chairman of HBMSU's Board of Governors (BOG), to adopt strategic measures in line with the objectives of the UAE National Vision 2021, to develop a superior learning system based on investments in human capital and the development of professional diplomats capable of representing the UAE in international forums."
Rabih El Haddad said: "The 'International Leaders' program provides a unique opportunity for both academic community, and public and private sector professionals alike. The program presents them with the opportunity to acquire and enhance knowledge and to refine their skills and competencies to become distinguished leaders in their respective fields. The program consists of seven practical modules being taught in Dubai, UAE, by HBMSU, and in the city of Geneva, Switzerland, by UNITAR. This means that the program will have a significant impact on the development of the participants' career prospects and their competencies."
Al Awar concluded: "The importance of this program lies in being an ideal platform for our learners to connect with the outside world and be aware of its developments, to develop a more comprehensive world view. This will help them understand the most pressing regional and international issues and will prepare them in the ideal way to participate actively in employing economic, cultural, artistic, tourism, humanitarian and social components of the UAE, in consolidating its leadership in the international arena. We look forward to the strategic partnership with UNITAR, based on a shared vision to support governments and individuals through providing knowledge and learning opportunities that will enable them to effectively address today's global challenges."
The 'International Leaders' program aims to invest in a network of international relations to enhance the image and reputation of countries; to build and maintain international influence in specific areas; to shape a distinctive foreign policy based on national interest, with the identification of optimal ways to use the Soft Power Strategy as a tool of foreign policy and the creation of a network of talented and influential leaders in government, media and academic and business sectors. The program is based on seven modules: strategic future leaders, diplomatic protocol and ethics, art of diplomatic communication, international cooperation, diplomacy and international affairs, public speaking and media and conflicts resolution.
HBMSU and UNITAR will jointly provide the opportunities for practical training and evaluating the efficiencies of university learners, to integrate them in the United Nations System, and to provide the opportunities of practical training worldwide, within their system. Both parties will organize a series of high-level lectures for a wide range of audience including the civil society and private sector in regional and international multilateral affairs, under the supervision of officials from UNITAR. They will also organize study visits to the cities that host global organizations in the fields of international relations and multilateral diplomacy, such as New York, Geneva and Vienna.
UNITAR, located in Geneva, was founded in 1963, and is one of the UN's training centers, which offers training to close to 55,000 beneficiaries annually, by conducting more than 500 training and research activities around the world. The Institute focuses on enhancing the effectiveness of the United Nations through diplomatic training and policy rehabilitation and increasing the impact of national actions through increased public awareness education and training of public policy officials, supported by its mission to develop capacities to enhance global decision-making. It also promotes action in the international level to shape a better future in strengthening Multilateralism, promote economic development, social inclusion, advance environmental sustainability and green development, promote sustainable peace and research and technology applications.