Image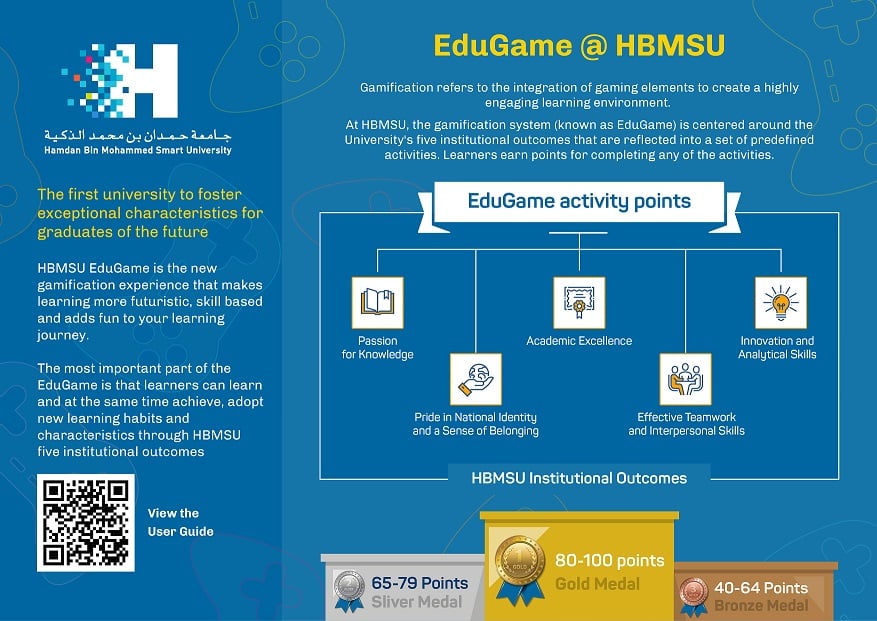 H.E. Dr. Al Awar: 'We will continue our efforts to reengineer learning for the empowerment of our learners as they drive development in  UAE'
HBMSU's graduates reflect the five learning outcomes, namely Academic Excellence, Innovation and Analytical Skills, Passion for Knowledge, Effective Teamwork and Interpersonal Skills, and Pride in National Identity and a Sense of Belonging
The Learners Relationship Management Department (LRM) of Hamdan Bin Mohammed Smart University (HBMSU) has welcomed the new learners for fall 2020 during its virtual 'Annual Gathering 2020'.  H.E. Dr. Mansoor Al Awar, Chancellor of HBMSU, led the virtual gathering during which he expressed his hope in the capabilities of the new learners as they pursue scientific and academic excellence. 
Dr. Al Awar reiterated HBMSU's firm commitment to adopt an advanced educational model that simulates the future, based on three key pillars: innovation, disruption, and transformation. Such a forward-looking learning model can prepare an empowered generation of innovators, knowledge ambassadors, nation builders, and future makers.
During this year's Annual Gathering, H.E. Dr. Al Awar also took the opportunity to announce the 'EduGame,' HBMSU's new gamification system, a milestone that makes the university the first institution to foster exceptional characteristics needed to build the 'Graduates of the Future.' He pointed out that the innovative system is now part of HBMSU's pioneering vision to integrate games into learning in a bid to redefine higher education and make radical changes in the learning process to make it an enjoyable and interesting journey. This will also help in elevating the capabilities and talents of the young and developing their skills to transform them into an influential force that will drive and shape the UAE's future. The university's modern approach to learning is in line with the wise directives of H.H. Sheikh Hamdan bin Mohammed bin Rashid Al Maktoum, Crown Prince of Dubai, University President.
He added: "The new version of EduGame', which engages learners and motivates them to take part in community activities, interactive discussions, and volunteering, reflects HBMSU's learning outcomes. These learning outcomes are Academic Excellence; Innovation and Analytical Skills; Passion for Knowledge; Effective Teamwork and Interpersonal Skills; and Pride in National Identity and a Sense of Belonging. Using top-notch technologies, the system is designed to provide a unique learning experience in line with the government's directive to invest more in the country's human capital as the most important resource for development."
"We are proud of the achievements of our graduates. We are confident that our current and new learners will be up to the task of carrying the torch of academic and scientific excellence and leadership on all fronts. This is pivotal as they serve as the nation's pillar of development, growth, and prosperity," Dr. Al Awar further stated. 
The virtual 'Annual Gathering' also served as a platform to formally introduce the members of the Alumni Council 2020. Further, members of the 2019 Alumni and the 2019 Learners Council were honored during the event for their contributions to the academic community. The 'Annual Gathering 2020' concluded with an interactive Q&A session.