The Conti Research Prize for Systems Thinking and Organizational Capability recognizes and supports research that focuses on the Middle East needs and addresses pressing questions related to systems thinking and organizational capability. The aim of the prize is to encourage and reward research that moves away from a mechanistic approach towards a systems approach in the context of organizations.
The Research Prize has been established in honor of Professor Tito Conti, an eminent scholar and consultant in the areas of quality and organizational excellence and Past President and Honorary Member of the European Organization for Quality including being Past President of the Italian Association for Quality
Image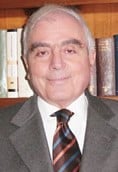 Submission and Selection Process
A summary of research not exceeding 500 words.
Full report/study in pdf file and Word document
Updated curriculum vitae of the researcher/s
A letter from the author/s' employer ( if the submission pertains to an organization) stating that the report is based on systems approach adopted by the organization
A letter from the Dean or Director of institution (if the submission is based on a Master's or Ph.D. thesis) stating that the work was actually done at that institution.