Short description
This prize has been established to recognize and reward research studies that make great contributions to the process of transforming organizational culture.
The Kondo Research Prize is a type of research fund for the support of planned research that addresses the Middle East needs, research interests and development questions in the area of people and organizational culture and behavior field. The aim is to further encourage research in this area of the world towards further focus and success in organizational development and business excellence arena.
The Award has been established by the University in honor of Dr. Yoshio Kondo, named ASQ's 23rd honorary member. Kondo is the global quality emissary for the Union of Japanese Scientists and Engineers (JUSE), the position formerly held by quality guru Karou Ishikawa. Kondo is professor emeritus of Kyoto University, Kyoto, Japan. Prior to his retirement in 1987, he was professor and dean of the faculty of engineering at Kyoto University. He also taught at Massachusetts Institute of Technology (MIT) during a two-year sabbatical.
Image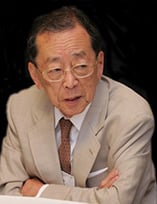 Eligibility of Submission
Proposal for research that was not carried out
Topics have to be within the people and organizational culture and behavior area in form of:
Qualitative/Quantitative research
Best Practice Case Study
 
The research should be conducted within the Middle East settings