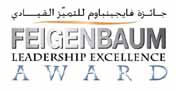 The "Feigenbaum Leadership Excellence Award" is dedicated to honor men and women in the Arab World for their exemplary leadership in driving their organizations to fulfill their role in business and society, for their uncompromising style to instigate a quality approach and culture to work, and for acting as role model to all.
The Feigenbaum Leadership Excellence Award is established in honor of Dr. Armand Val Feigenbaum, President and CEO of General Systems Company. Dr. Feigenbaum's considerable experience in the field of leadership and management has led to the design, installation and implementation of proprietary management operating systems to generate greatly improved results in many of the major manufacturing and services companies throughout the world.
The Feigenbaum Leadership Excellence Award comprises four leadership categories: 
Exceptional Leaders.      
Accomplished Leaders.      
Women Leaders.      
Rising Stars. 
The award is administered by the Deanship of Research & Doctoral Studies.