Image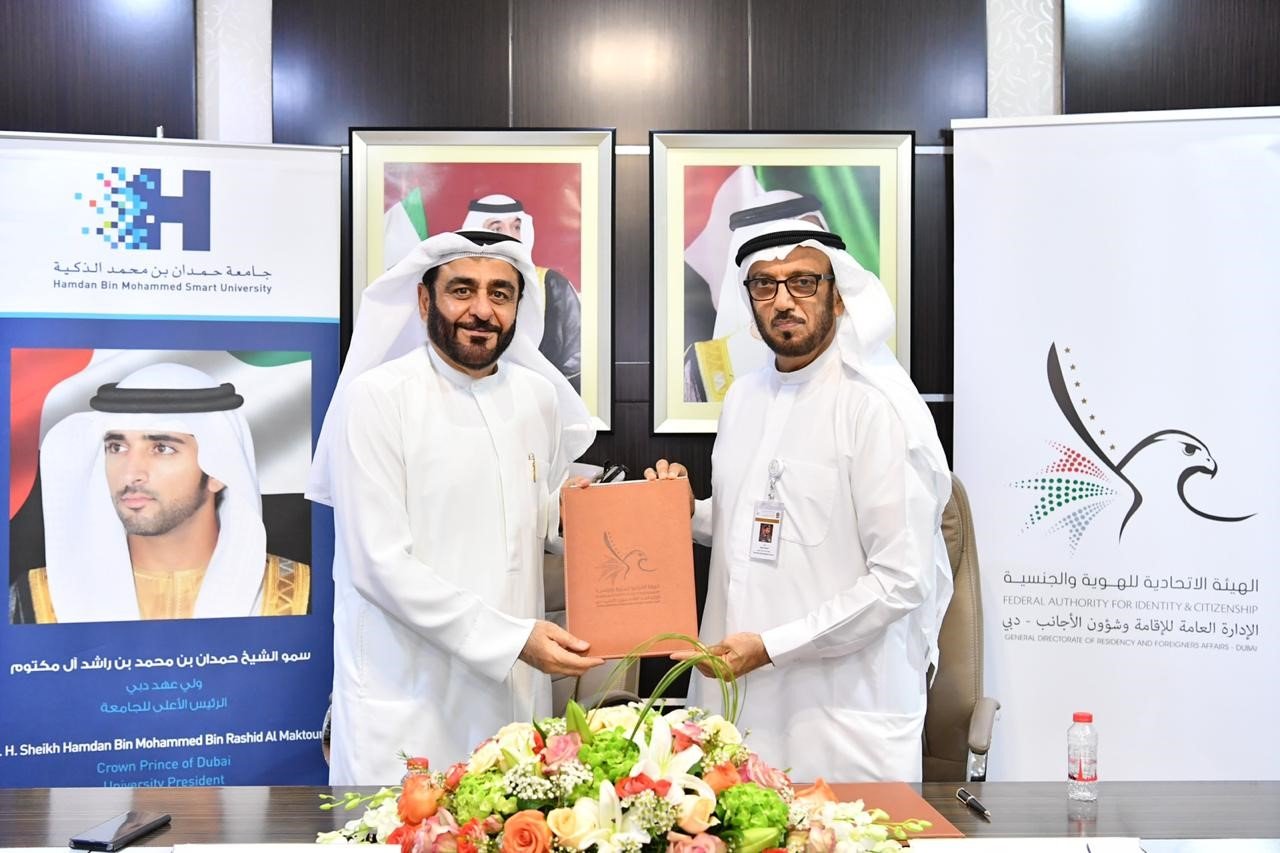 Agreement aims to invest in the human development 
The General Directorate of Residency and Foreigners Affairs in Dubai (GDRFA Dubai) has signed a cooperation agreement with Hamdan Bin Mohammed Smart University (HBMSU), following the Directorate's interest to strengthen its cooperation with leading educational institutions, especially in the field of intellectual property protection, joint training and legal, technical and administrative consultations as well as in other areas of common interest that contribute to social and economic progress. The agreement also seeks to invest in human resources and training programs that enhance leadership and excellence through creativity and innovation, thereby contributing significantly to sustainable development.

H.E. Major General Mohammed Ahmed Al Marri, Director General of GDRFA Dubai and Dr. Mansoor Al Awar, Chancellor of HBMSU signed the agreement in the presence of Brigadier Awad Al Awaim, Director General Assistant of Human Resources and Finance Sector in GDRFA Dubai, Brigadier General Talal Al Shanqiti, GDRFA Assistant Director-General for Ports Affairs, and Lieutenant Colonel Yasser Rashid Al Khanboli, Director of Training and Performance Development, and Lieutenant Colonel Abdul Samad Hussain Sulaiman, Vice Assistant Executive Director for Quality and Institutional Excellence General Directorate of Residency and Foreigners Affairs Dubai, along with a number of senior officials from both sides.
The agreement stipulated that the two parties will engage in the exchange of expertise, experiences, studies, creative and innovative ideas, field visits and marketing of the academic and training programs. It also agreed to collaborate and conduct specialized courses, workshops, seminars, and conferences that increase engagement in creativity and innovation and thereby contribute to development. 
His Excellency Major General Mohammed Ahmed Al Marri: "The signing of this agreement is   in line with the vision of His Highness Sheikh Mohammed bin Rashid Al Maktoum, Vice President and Prime Minister of the UAE and Ruler of Dubai, who pays great attention to the human development, motivates and empowers them and opens the door in front of them for creativity and innovation, to carry out their duties and functions as best as possible." 
He emphasized that the Directorate continues to strengthen its partnership with educational institutions in Dubai to benefit from their expertise and the studies carried out by universities and work together in developing government work and fulfill its commitment to society. He also underscored the importance of preparing graduates in performing key roles in society and benefit from their abilities and talents in various fields.
H.E. Al Marri further noted the readiness of the Directorate to adopt learners from universities through its Innovation & Creativity Center, which is a safe learning environment designed accurately and professionally to create an environment that helps innovation and refine skills. He explained that the center works within the Directorate's strategy to increase its innovative services and establish a culture of creativity, developing a range of standard and specialized skills for employees and help them reach the highest levels of efficiency and quality.
Dr. Mansoor Al Awar, Chancellor of Hamdan Bin Mohammed Smart University, said that  the new partnership is a strong push towards unifying all efforts and strengthening our effective cooperation with the Federal Authority for Identity and Citizenship in the area of training and development, which support the efforts of developing the skills necessary in building a competitive knowledge economy based on productivity, knowledge and innovation. 
Dr. Al Awar added that this partnership is in line with HBMSU's commitment to the directive of H.H. Sheikh Hamdan bin Mohammed bin Rashid Al Maktoum, Crown Prince of Dubai and HBMSU President, to equip UAE nationals with the skills of the future in accordance with job market trends and the UAE's vision for the future.
 Dr. Al Awar further emphasized that the UAE continuously moves ahead in its efforts to become a global leader among the world's most innovative countries. 
Dr. Al Awar said: "The Memorandum of Understanding (MoU) paves the way for us to consolidate our cooperation with the Federal Authority for Identity and Citizenship in the areas of training and development. We fully support the process of building a generation that is qualified and capable of creating a competitive, productive, and knowledge- and innovation-driven economy. This 
Dr. Al Awar added: "The MoU embodies our 'Together We Grow' principle and reaffirms our intention to provide professional diploma programs according to the highest standards. At HBMSU, we observe the best practices that will put us at the forefront of re-engineering the future of global higher education in accordance with the pillars of innovation, technological disruption, and digital transformation in line with the requirements of the 21st century. We look forward to using our smart quality initiatives and advanced technology infrastructure to prepare special training programs in the field of certified professional project management. This will allow us to meet the needs of the Federal Identity and Citizenship Authority. Driven by our achievements in adopting the latest technologies and offering modern educational programs, we express our support for the government's aim to build generations that are capable of creating the future that our wise leadership aspires for to elevate the UAE's global status in all vital areas."