Image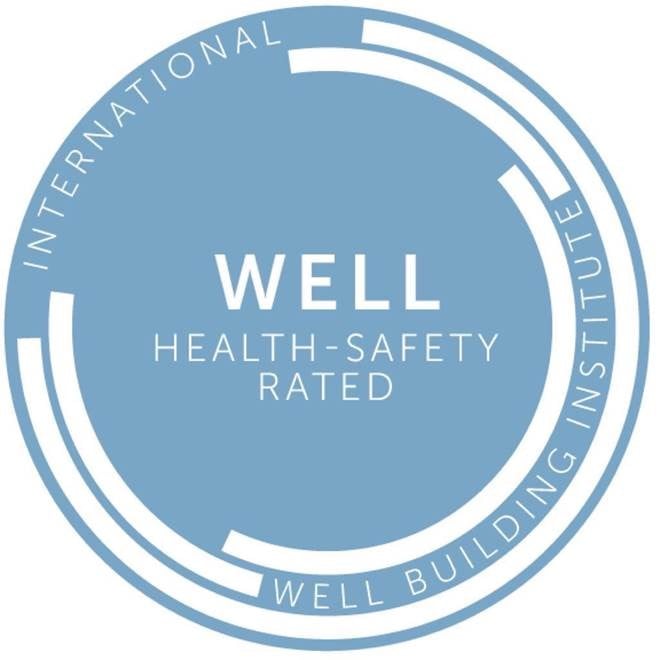 University's campus buildings become the first educational institution in the UAE and the Middle East to receive the seal through International WELL Building Institute
HBMSU meets key features for receiving the rating seal which includes cleaning and sanitization procedures, emergency preparedness programs, health service resources, air and water quality management, and innovation
Hamdan Bin Mohammed Smart University (HBMSU) announced that it has successfully earned a WELL Health Safety Rating for its university campus through the International WELL Building Institute (IWBI). As part of its commitment and continuing efforts to achieve the highest international standards in higher learning and assure the learners, faculty members and staff of their health and safety amidst the COVID-19 pandemic, HBMSU enrolled for the rating system and met all the requirements to be given the WELL Health Safety Rating seal, making the university the first in the UAE and the Middle East to achieve this milestone.
HBMSU was awarded the WELL Health-Safety Rating after successfully completing a third-party documentation review by the Green Business Certification Inc. (GBCI) confirming that it has met the feature-specific intents and requirements. HBMSU has fulfilled the key features of the rating system such as cleaning and sanitization procedures, emergency preparedness programs, health service resources, air, and water quality management, and innovation. 
Commenting on the awarding of the WELL Health-Safety Rating System, Dr. Mansoor Al Awar, HBMSU Chancellor, said: "HBMSU continues to employ and adopt innovation strategies, as well as engage with leading international institutions in line with our commitment to provide a unique and creative learning environment that enhance and encourage the overall well-being of our faculty members, administrative employees, and learners. We implement this under the guidance of HH Mohammed bin Rashid Al Maktoum, Vice President and Prime Minister of the UAE and Ruler of Dubai, who has made innovation at the center of the UAE's sustainable development approach."   
Dr. Al Awar added: "It is part of the mandate of HBMSU to adopt advanced systems that will enhance the sustainability of its campus buildings, in a bid to cement our leadership in being future-ready and stay ahead of other leading universities by 10 years, and this latest achievement reflects the university's commitment to meet these goals.  The rating also meets the global standards for environmentally sustainable buildings that we follow, which support the individuals' health, well-being, and happiness."
He concluded: "We are committed to working with international leaders in the field such as IWBI to ensure that HBMSU meets international health requirements standards. We believe that providing a sustainable and secure building will help improve the quality of life of our learners, faculty, and administrative staff in line with the global best practices. This is in response to the directives of H.H. Sheikh Hamdan bin Mohammed bin Rashid Al Maktoum, Crown Prince of Dubai and President of the University, to support the national environmental sustainability efforts for future generations."
The WELL Health-Safety Rating is an evidence-based, third-party verified rating for all new and existing building and space types focusing on operational policies, maintenance protocols, stakeholder engagement and emergency plans to address a post-COVID-19 environment now and into the future. It is designed to empower owners and operators across large and small businesses alike to take the necessary steps to prioritize the health and safety of their staff, visitors and stakeholders. The rating can help guide users in preparing their spaces for re-entry in the wake of the COVID-19 pandemic, instilling confidence in those who come through the building and the broader community.
Paul Scialla, CEO of Delos and Founder of the International WELL Building Institute shared "As the entire world continues to grapple with this public health crisis, it has become clear that our buildings and the people in them are our first line of defense for keeping us safe and healthy. By achieving the WELL Health-Safety Rating, Hamdan bin Mohammed Smart University is raising the bar for universities worldwide and signaling to its students, faculty, staff and guests that their health, safety and well-being are top priorities."
Scialla added: "The International WELL Building Institute is proud to announce that HBMSU is the first university in the United Arab Emirates and the Middle East to achieve the WELL Health-Safety Rating. Our shared values and vision of creating healthier and safer indoor environments, are underscored by the WELL Health-Safety Rating, which is a visible indication of confidence and trust, illustrating to everyone entering HBMSU's campus that evidence-based strategies and third-party verified solutions have been adopted, addressing the critical need for better buildings and more vibrant communities going forward."
"Colleges and universities can serve as frontline caregivers in the fight against COVID-19 and, coupled with policies, practices and programming, can function as caretakers of our physical, social and emotional well-being as we collectively respond to global health challenges like the one we're experiencing now," said IWBI President and CEO Rachel Hodgdon. "As the first university in the Middle East to achieve the WELL Health-Safety Rating, Hamdan Bin Mohammed Smart University has established itself as a leader in the region in supporting a healthy, resilient recovery while inspiring others to reopen with confidence. By achieving the rating, HBMSU has demonstrated incredible leadership in directly supporting the health, safety and overall well-being of students, staff and educators."
Further, the rating provides a centralized source and governing body to validate owners and operators' efforts. It leverages insights drawn from the IWBI Task Force on COVID-19, in addition to guidance on the spread of COVID-19 and other respiratory infections developed by the World Health Organization (WHO), U.S. Centers for Disease Control and Prevention (CDC), global disease control and prevention centres and emergency management agencies, as well as recognized standards-making associations such as ASTM International and ASHRAE, and leading academic and research institutions, as well as core principles already established by IWBI's WELL Building Standard, the premier framework for advancing health in buildings and spaces of all kinds.