Image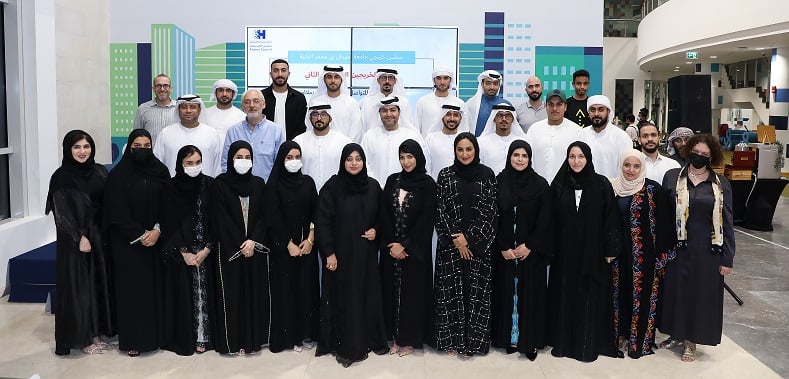 Event facilitated exchange of ideas and discussions on professional and societal development
The Hamdan Bin Mohammed Smart University Alumni Association successfully organized its second alumni social gathering, which was attended by Dr. Fahad Al Saadi, Vice Chancellor for University Advancement at HBMSU. The gathering provided the alumni with an opportunity to communicate with the university and their colleagues, exchange insights and ideas, and discuss suggestions for professional and community development.
Through this event, HBMSU hoped to build on their alumni's post-graduation experience and promote a culture of mutual benefits, as well as participate in the development and sponsorship of a communication platform that allows alumni to share, communicate, develop, and grow collectively. In addition, the goal is to help the university achieve its vision and support its strategic directions for 2021 - 2023, which include initiatives to expand HBMSU's smart training programs across the Arab world, such as:  creation of innovative business models that help attract new sectors, adoption of latest technologies to accelerate innovation in education and related administrative aspects,  support digital transformation programs of universities in the UAE and rest of the Arab world, and incorporation of the concept of education for skills into academic programs at the university.
Furthermore, the gathering featured a panel discussion, titled 'Work-Life Experience after Graduation' which discussed three main topics: volunteering and taking initiative, continuous learning and adapting to changes, and passion and facing challenges. Participants in this panel included some of the university's most distinguished alumni, and was led by Dr. Marwa Abdalla Shalwani, Alumni Association Member. The discussion featured the following speakers: Omar Mohammed Alhemeiri, Alumni Association President, Mohammed Hussain Gulfam, Alumni Association Secretary, Fatima Al Marzooqi, Alumni Association Member; Hamad Mahfouz Al Shehi, Local and International Volunteer, and Muna Baqer, Diploma in Future Foresight.
HBMSU offers a variety of services to its alumni, including specialized courses for professional support, scientific research support, educational and academic awards support, personal and career guidance services, career development courses, and other activities. The university also provides job opportunities and employment services for graduates, as well as opportunities to join the Entrepreneurs Council, which provides resources, communication platforms, and other services to entrepreneurs, in addition to project management and guidance programs.