Image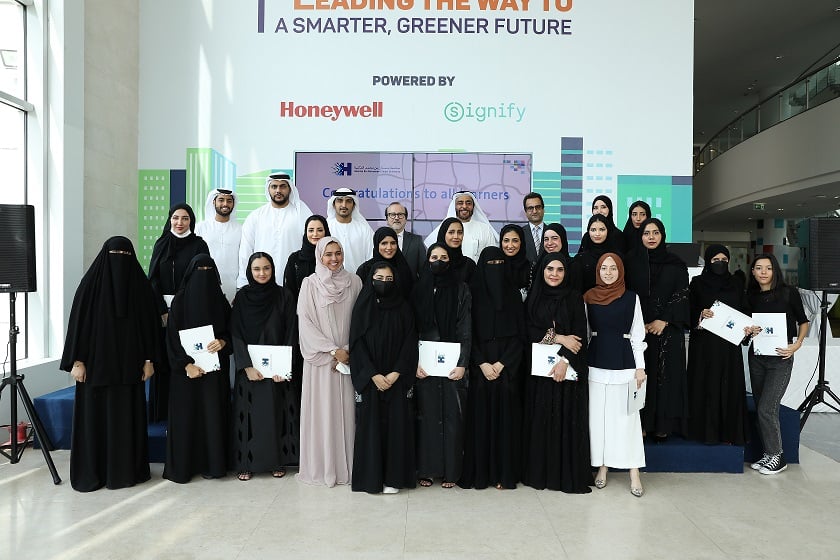 The Hamdan Bin Mohammed Smart University (HBMSU) honoured 85 bachelor's and master's degree learners for academic excellence in the spring and fall semesters of 2021. An award ceremony was held at the university in the presence of H.E. Dr Mansoor Al Awar, Chancellor of HBMSU, along with parents and other senior officials of the university.  
Certificates of distinction and recognition were awarded to students by Professor Nabil Baydoun, Vice Chancellor for Academic Affairs, HBMSU, and other faculty deans, where Baydoun also highlighted the efforts, excellence, and outstanding performance of the learners. He emphasised HBMSU's ideal environment for learning which fosters excellence, innovation, and creativity in all academic disciplines offered at the university, and further spoke about the latest developments adopted by the university to enhance learning processes to develop skills and capabilities of learners.
During the ceremony, 37 bachelor's degree learners of Business and Human Resources Management, Business and Quality Management, Business in Accounting, and Science and Health Administration, were awarded for their outstanding academic performance. Additionally, 48 learners who had enrolled for master's degree in Human Resource Management, Project Management, Science in Organizational Excellence, Excellence in Environmental Management, Science in Innovation and Change Management, Management in Entrepreneurial Leadership, Science in Hospital Management, Science in Public Health, Arts in Online Curriculum and Instruction, Arts in Online Education Leadership and Management, Education in Gifted and Talented Education, and Science in Interactive Educational Technologies, were also awarded for their excellence in academics.
All award recipients expressed their gratitude towards the university management, represented by Al Awar. They further highlighted how HBMSU's learning culture enabled their growth and excellence in academic performance, motivating them to persevere, be creative, and innovate for their professional journey in the future.