Image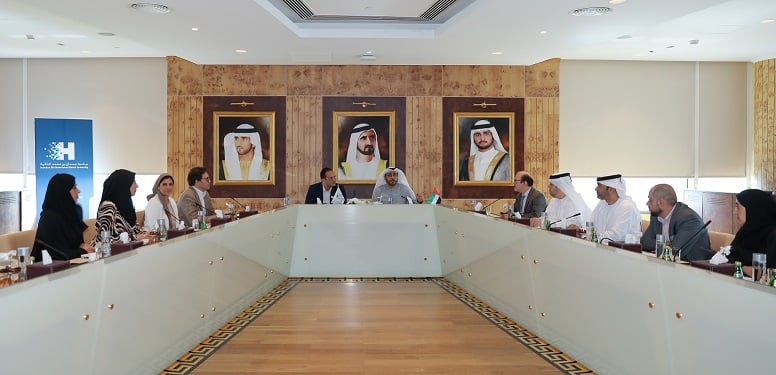 His Excellency Dr. Mansoor Alwar, Chancellor of Hamdan Bin Mohammed Smart University, welcomed a high-level delegation from the Galala University in Egypt, at the HBMSU's headquarters to explore innovative avenues for collaboration within the education ecosystem at both regional and international levels. The delegation included Dr. Mohamed El-Shinawi, Acting President of Galala University, Dr. Rana Zeidan, Secretary General of Galala University, Dr. Ahmed Hanno, Vice President for Student Affairs at the university and HBMSU's administrative and faculty members. During the meeting, both institutions explored various prospects of collaboration to further advance the education sector and achieve excellence. 
H.E. Dr. Mansour Al Awar, Chancellor of Hamdan Bin Mohammed Smart University, emphasized the significance of strengthening the strategic alliance between the UAE and Egypt which aims to establish mutual collaboration and sharing of knowledge as a blueprint for the Arab world, and to lay the foundation to establish research and academic connections on a local and global scale. As well as to promote knowledge exchange and establish a culture of innovation and accelerating the pace of transformation towards a more innovative, flexible, and sustainable learning model, to support generations of youth learners who will undertake the development advancement in the Arab world.
For his part, Dr. Mohamed El Shinawi, Acting President of Galala University, indicated during the meeting his delight with this visit, and his keenness to establish new avenues for mutual scientific and cultural collaboration between the two parties. The primary objective is to transform Egypt a centre of education and knowledge and learning in the middle east, through international collaboration and exchange of experiences with all Arab and foreign universities and institutions, stressing the provision of a suitable environment for an educational environment equipped with the latest global capabilities, which helps to produce a new generation of graduates that meets the needs of the labour market locally or globally.
Furthermore, the two parties emphasised their confidence in the promising prospects for academic and research cooperation between HBMSU and Galala University. They highlighted that the exchange of expertise between both sides will contribute to advancing the education sector, beneficially impacting the educational ecosystem and community in the UAE and Egypt.