Image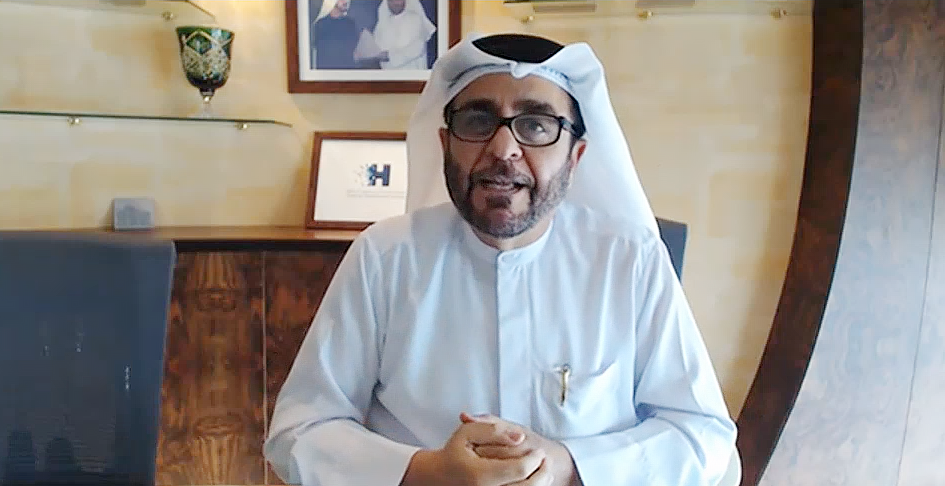 Mansoor Al Awar reiterates commitment to enhancing UAE's leading role as one of the most prepared countries
University marks the beginning of academic year 2020-21
Hamdan Bin Mohammed Smart University (HBMSU) marked the beginning of the academic year 2020-21 with a series of virtual introductory meetings chaired by His Excellency Dr. Mansoor Al Awar, Chancellor of HBMSU. The meetings were aimed at welcoming already existing learners and new comers to a new year of academic and scientific excellence. 
Al Awar underlined the way forward in harnessing smart technologies in service of smart learning, which has proven to be the cornerstone to the continuity of academic activities in light of the unprecedented circumstances that the world is witnessing as a result of the COVID-19 pandemic.
His Excellency underscored HBMSU's commitment to supporting the national directives towards the continuity of education by capitalizing on its position as a pioneer in bringing about a positive and real difference within the educational system locally, regionally, and globally. HBMSU also utilizes its capabilities to support the UAE's efforts to spearhead new, equitable comprehensive education and lifelong learning opportunities for all.
Al Awar expressed his confidence in learners who represent the real asset, hope and the strongest bet for the future of the UAE. He urged them to be open to science, knowledge, innovation, creativity, leadership and determination so that they are fully prepared to compete at the global arena. They will be able to accomplish achievements that may seem unattainable, however with the directives of H.H. Sheikh Hamdan bin Mohammed bin Rashid Al Maktoum, Crown Prince of Dubai and Chairman of Dubai Executive Council, and President of HBMSU, HBMSU prepares young leaders who are qualified to build the future.
Al Awar affirmed his belief in advanced and excellent capabilities that further add to HBMSU's contributions to the UAE's precedence as one of the most prepared countries for smart learning, which is a top priority in overcoming current global challenges. 
Furthermore, Al Awar emphasized the significance of scientific research as one of the main pillars of the national strategies to achieve global leadership, as well as a major driver of development and advancement, so that research findings can be put into application of efficient strategies that ensure sustainable development. Moreover, Al Awar called upon learners to adopt scientific research and self-development as tools to reach new levels of academic excellence during their years at HBMSU, adding: "the relationship between R&D and economic development is quite apparent. Many countries are considered poor in terms of natural resources, but their economies can compete with the world's largest economies and this is because of their investments in human resources and R&D." 
"We are committed to introduce new innovative learning models that help our cause, the latest of which was the 'Blended Delivery Model.' The new model combines both the synchronous learning, happening in live classrooms, and the asynchronous learning, happening in self-study sessions. With this model, we are opening up to new era of excellence in higher education that is characterized by advanced technologies in order to raise an academically and scientifically competent generation, capable of leading progress and development," Al Awar said.  
H.E. added, "We are looking forward to continuously provide an integrated learning environment that drives creativity and excellence in our smart facilities and interactive platforms in line with our vision to take HBMSU ten years ahead of other institutions. Capitalizing on our advanced infrastructure and technologies, we will move forward towards a unique educational experience, where HBMSU builds entrepreneurs, innovators, researchers, decision-makers, and knowledge ambassadors, rather than just job seekers." 
"We are proud of the scientific and academic milestones achieved by HBMSU learners. We encourage learners to follow in the footsteps of our wise leadership to cement our prestigious position on the global level. Being the pillar of continued education and a major driver of growth and development, fostering a culture of smart learning will always be one of our top priorities," Al Awar concluded.