Image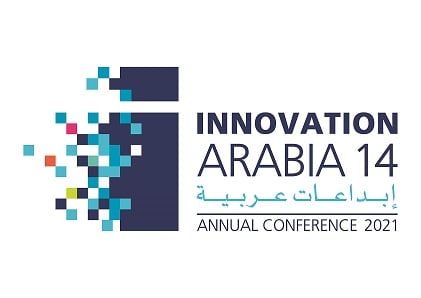 The Conference Addresses Pressing Issues in Crisis Management, Learning, Innovation, and Social Development
The iconic Innovation Arabia event is launching its 14th edition this year virtually under the theme "Innovation Everywhere". The event is held under the patronage of His Highness Sheikh Hamdan Bin Mohammed bin Rashid Al Maktoum, Crown Prince of Dubai and President of Hamdan Bin Mohammed Smart University (HBMSU), and is being held from the 22nd to the 24th of this month. 
Innovation Arabia 14 features five subthemes: Crisis Management and Business Continuity, Smart Future Enables, Learning for a Better Life, Social Innovation Systems, and Virtual Experience Economy. This year, there is a big focus on the new platforms of innovation and the challenges in universities and business and government organizations. The conference also focuses on the most prominent innovations and creativity in the UAE and the region, while gathering the most eminent experts, decision-makers, researchers, and leaders from all parts of the world, to discuss the latest technologies and solutions that create the future of innovation and creativity in the world.
From his side, Eng. Anas Al Madani, Vice Chairman and Group CEO of INDEX Holding said: "The decision to launch the 14th edition of Innovation Arabia virtually is a result of a proactive step by Hamdan Bin Mohammed Smart University – HBMSU, in cooperation with INDEX Holding to achieve the vision of making quality education available for everyone. We have touched the need to encourage modern digital technologies while allowing dissemination of innovation and creativity concept everywhere, therefore, we have provided an online space to meet, communicate, and discuss within an interactive virtual environment that brings together everyone keen on enhancing knowledge and learning with a selected group of specialists and experts in various fields from all over the world." He also added: "at INDEX, we continue to pursue creativity and innovation as a clear approach in building a continuous learning hub following the guidance of our wise leadership."
From his side, Dr. Fahad Al Saadi, Vice Chancellor for University Advancement, Hamdan Bin Mohammed Smart University (HBMSU), said: "The launch of the 14th edition of 'Innovation Arabia' conference and exhibition will take place amid the accelerated use of modern technologies in light of the ongoing rapid changes especially after the COVID-19 pandemic, which has led to significant economic and social challenges. To be held virtually for the first time, this year's edition will tackle pressing issues with immense impact on the future of creation and exploration. The event will also highlight several success stories led by the UAE and its pioneering experience. The country was the first to respond effectively to the crisis and managed to transform challenges into opportunities thanks to its commitment to innovation and digital transformation, both of which serve as solid pillars of the nation's development and economic strength. 
"We look forward to hosting an elite number of dignitaries, academics, experts and leaders who will discuss the implementation of proactive ideas, including Smart Future, Smart Life, Smart Mobility, Smart Governance, and Smart Economy, along with the latest ICT infrastructure of Big Data analysis, cloud computing, artificial intelligence and sensor networks which will improve the quality of life and enhance business growth. The event will also review how to increase the benefits of virtual experiences, enhance crisis management and business continuity, improve quality of education and instill a culture of social innovation, all of which are tools that we need to overcome challenges and harness opportunities available in today's world. We seek to shed light on the important role of innovation and creativity in responding to emerging crises and leading the future that we aspire through a series of roundtable discussions to be held before the conference. The three schools at HBMSU organized the forums to discuss ways to confront the pressing issues in the 21st century."
Dr. Fahad concluded: "We are confident that the upcoming edition will build on the success of 'Innovation Arabia' conferences held in the past years, to become a leading platform in advocating for the culture of innovation in the Arab world. HBMSU is pleased to cooperate with 'INDEX Conferences and Exhibitions' to organize the 14th edition of 'Innovation Arabia', which will be an important conference to encourage companies, governments, and communities to adopt innovation as a major tool for shaping the future." 
Innovation Arabia 14 emerges once again as an important platform for the exchange of experiences, expertise, and knowledge through presentations, seminars, and educational dialogues with leading experts and specialists in crises management and business continuity, smart future enablers, learning for a better life, social innovation systems, and virtual experience economy. 
Commenting on the event, Prof. Ahmad Ankit, Research and Doctoral Studies, Dean, HBMSU, and Head of the Innovation Arabia 14 Scientific Committee, said: "Under the theme 'Innovation Everywhere,' the Innovation Arabia 14 is the first virtual edition of the event. The participants will deliver their talks from their desks anywhere globally, thereby extending Innovation Arabia's reach while simplifying logistics processes. We expect increased interactions among attendees via an online platform made available to them. For our part, we can collect more accurate data such as registrations and attendance rate, time spent at the conference, and engagement level that will help us improve our communication strategy for the upcoming Innovation Arabia 15. For this edition, we have received 247 submissions. They will be published in the book of abstracts, and from those submissions, full papers in Innovation Arabia 14 proceedings will be produced. Those papers will go through a rigorous peer-reading process. Also, all the presentations will be recorded and made available for researchers and students. Among the submissions, there will be 16 success stories."
Innovation Arabia, which will be entirely virtual, provides a unique experience and excellent opportunity for participants to interact with experts, researchers, and innovators. This year Innovation Arabia will feature 150 lectures presented by more than 120 speakers from all over the world, and the organizing committee is expecting 1,200 attendees to join virtually. 
This year, innovation Arabia is privileged to have several prominent speakers who will enrich the scientific program, worth mentioning: H.E. Dr. Raja Al Gurg, Managing Director of the Easa Saleh Al Gurg Group, Member of Hamdan Bin Mohammed Smart University Board of Governors, Dr. Borhene Chakroun, Director, Division for Policies and Lifelong – UNESCO, , IVANO Iannelli, CEO -Dubai Carbon Centre of Excellence, Dr. Naseem Abdullah, Director of health & safety, Dubai Municipality, Dr. Kathryn K. Leonhardt, the Principal Consultant, International Quality & Patient Safety, Joint Commission International, David Qu, Vice President of Global Publications, Education, and Electronic Products at Joint Commission International, Dr. Hamda Hassan Khansaheb, Consultant Family Medicine and Head of Medical Research Section - Medical Education and Research Department - DHA, Dr. Abdalla Sulaiman Alhammadi, Chief Innovation Officer and the Head of Strategy Department, Ministry of Justice, UAE. 
Moreover, Innovation Arabia will host the Pre-Event Round Tables, an activity that evaluates the effectiveness of policies and laws related to COVID-19 control in the UAE, and will also review the UAE's healthcare readiness for COVID-19 with regards to health equipment and facility availability; quality and quantity of healthcare providers; initiation and application of health technologies for COVID-19 control, and; mobilization of new healthcare resources. Also, it will appraise UAE's societal emergency resilience as well as its adaptation to regional and international resilience vis-à-vis the COVID-19 pandemic. The discussions will consist of different sessions including: "Creating a Resilient Health System in UAE: Lessons from COVID-19 Pandemic", "Re-imagining the Future of Economics: Towards a Cashless Economy", and "Disruptive Learning Spaces Leading the Future of knowledge Societies: Rethinking the Higher Education". 
All of those activities will result in several policies and strategies that will design and shape the future of the education and health sector. This year Innovation Arabia attracted many supporters and partners from international entities such as UNITAR, INJAZ Al Arab, Edarabia, and VRAR Association. 
Dr. Sana Farid from President of VRAR Association said: "Innovation Arabia 2021 is being held at a time when the advancement is happening marvelously fast in the field of immersive technology, and the growth models of leading countries today encompass huge investment in science and R&D. Extended Reality and Artificial Intelligence are the front-line technologies. The conference has gathered leading minds in these domains to deliver a wondrous colloquium." 
From his side, INJAZ Al-Arab CEO, Akef Aqrabawi stated: "Innovation Arabia 14 is an exceptional platform that offers space for knowledge exchange and stands as a central engine and driving force for innovation, economic growth, and development. INJAZ Al-Arab is proud to join this year as a knowledge partner and support its multi-faceted activities".
Moreover, Innovation Arabia 14 will host again this year the U-Start competition, which is designed to encourage young entrepreneurs to become more responsible, change-makers and establish new businesses that can cope with the uncertainties of the rapidly and continuously changing market needs and demands, and make the world a better place. It provides a platform to display and assess innovative business ideas to well-established entrepreneurs, government officials, investors, and mentors in the ecosystem. It also offers the opportunity to win prestigious rewards, unlock opportunities, gain knowledge and experience, and network with other like-minded founders to share the fun and hustle of the entrepreneurship journey. The U-Start competition this year received submissions from 20 schools and 11 universities, where 10 finalists only will be shortlisted.
Innovation Arabia 14 is organized by INDEX Conferences and Exhibitions - a member of INDEX Holding, in partnership with Hamdan Bin Mohammed Smart University -HBMSU.